Modular Aluminum Systems
Mobile Aluminum Trench Boxes
GME Shields has designed our Modular Aluminum Systems to be lightweight and easily used by smaller machines such as mini-excavators and rubber tired backhoes, as well as crews. The GME modular aluminum trench box systems offer a full range of trench box products that meet the demands of wide variety of job site requirements.
Our modular aluminum trench box systems meet all OSHA requirements.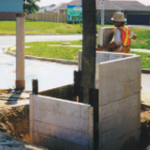 The GME Lite-Shield provides municipalities, plumbers, mechanical contractors, telephone, gas, and electric utility companies with a unique, yet versatile aluminum trench box system.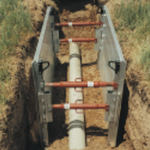 The ORIGINAL Lite-Shield™ is the 20 inch system. These 20" high panels are lighter in weight and easy to handle.