4" Trench Shields
The 4" wall series of trench boxes are the standard of the trench shielding industry. Designed by GME, these trench shields are the work horse of the industry. With the combination of narrow sidewalls, relative light weight construction and good depth ratings, these 4" trench shields can save money, time and lives. This series of trench shields are ideal for use with 30,000 to 50,000 lb. excavators.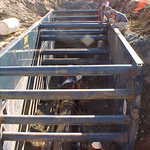 The 4M Series narrow -wall trench box from GME can help you turn a few extra inches into lots of profitable yards. Faster excavation time, with reduced labor time and minimum amount of machine cycles, to help you keep in the black. Even with narrower sidewalls, the 4M Series trench shield has been designed to give you rugged performance in the trenches, for excellent handling of shallow - cut jobs and maximum worker safety in the trench.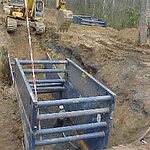 The 4L Series trench box is ideal for contractors who typically excavate to depths of 12 to 15 feet. This trench shield is modeled for the smaller rubber - tired excavators. Utilizing special light weight materials, this trench shield is ideal for repair and maintenance work.